Aust. Dual Ch. (T) Coppertop Catch A Glance CDX TDX ET
"Casey"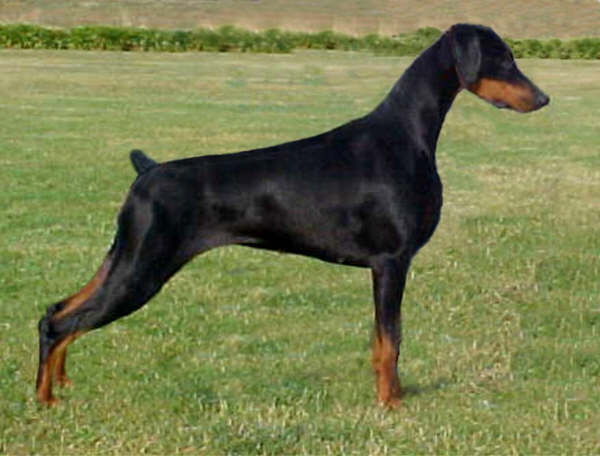 Multiple  Class In Specialty Show winner
owned by our good friend Shayne Ramsay
bred by Julie Hovell - Coppertop Dobermanns, Victoria, Australia.

We have known Shayne for nearly 30 years through her involvement in Weimaraners. Shayne owned the beautiful Weimaraner bitch "Aust Ch. Bromhund Ultra Sonic - Wiggs" who was a Multiple BIS and BISS winner, and was also Runner Up In Show at Adelaide Royal.  Shayne bred Wiggs under the Trupoint prefix and from her first litter Liz was lucky to purhase our beautiful Weimaraner 'Aust. Ch. Trupoint Rich Bitch'.

Shayne moved into Dobermann's when her daughter Tasha wanted a dog but didn't want a Weimaraner or German Shorthaired Pointer.  Through Tasha her love of the breed deepened and for most of the past decade she has owned Dobermann's.  She has created a State record for continuous wins in the Obedience Top 10 dogs competition, winning 3 times with her talented girl 'Aust Obed.Ch. Crackerdobe Watta Cracker ET, WAC.

Whilst working her Dobermann's in Obedience she met fellow dobe owner, Julie Hovell - 'Coppertop Dobermanns' who was looking for a home for a rehouse bitch - this bitch was the beautiful Casey.  Casey is handled in the show ring by Julie. Her wins include Specialty Show Bitch CC and numerous class in shows. She gained her championship title mostly under Dobe specialist judges, accumulating 71 points in 9 days including bitch CC and Intermediate in Show at ACT Dobe Specialty 2004. Shayne has trained Casey for obedience and gained her CD title with scores of 195,190, 193 and 191 giving her 4 first places, 2 highest in trials over 4 consecutive trials.  Casey gained her CDX title in just 4 trials, topscoring with 196 at the 2005 Doberman Club of Victoria obedience trial. Whilst Casey is trained and handled in obedience by Shayne she lives with Tasha and her partner Doug in Mt. Eliza, they also have another dobe bitch - Java who is also extremely spoilt.

Shayne asked Liz to handle (Shayne's knees aren't as young as they used to be) Casey for tracking at the beginning of the 2007 tracking season and her first trial was at Tracking Club of Victoria at Broadford in July, 2007 where she gained her TQT.
The following week at Morwell she gained her Track 1 & Track 2 - giving her a TD Title in just 7 days and was graded Very Good for both Tracks. By mid August Casey had achieved Tracks 3 & 4. At the beginning of June 2008 she gained her TDX at Hastings Obed. Dog Club Trial - judge - Helen Den Hartog. Casey is now trying very hard to get her Track 6 and Tracking Championship before the end of this tracking season. Whilst Casey is an air head (or blonde shall we say) at times on tracks she is a beautiful tracking dog, especially when she sets her mind to work.

14-7-08 Casey achieves a Very Good on her Track 6 - gaining her "Tracking Championship"
Judge: Mrs. Kim Houlden - Tracking Dog Club of Victoria Inc. who in her presentation speech said -
" Casey is one of the best tracking Dobermann's I have seen - she was very close to an excellent grading"

Note: Casey started her tracking trial career off with a TQT pass from Kim Houlden at this same tracking trial and in exactly one year to the day she gains her Championship under Kim. 
Aust. Dual Ch.(T) Coppertop Perfect Image E.T. TSD
"Miss Phoebe".
Owned by Shayne Ramsay.
(Tracked by Liz Harding)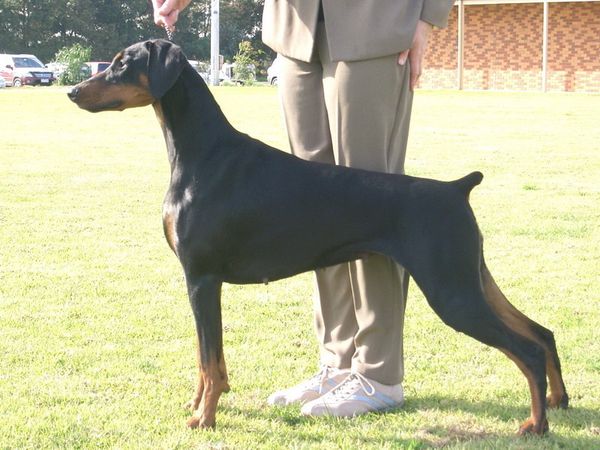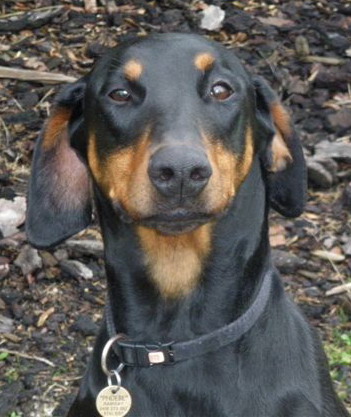 Phoebe has been a top winning Dobermann in the show ring, easily gaining her show title - handled by her breeder Julie Hovell. Phoebe is quite the 'blonde' of Shayne's girls, never being one to do much on the obedience front.  Phoebe took to tracking like a duck to water, easily gaining her TQT (now called Test 1) under Peter Miller at the Tracking Club of  Victoria's trial in September 2008. Phoebe passed her Test 2 at Hastings Obedience Dog Club at Flinders on June 1st 2009 with a grading of Very Good - judge Peter Miller. Her Test 3 and T.D. title were gained at the German Shepherd Dog Club of Victoria Tracking Trial held at Haddon (Ballarat) on the long weekend in June - with a grading of Very Good under Mrs. Lynn Klekka. Phoebe was trialled at Bendigo Obedience Dog Club Tracking Trial on Sunday 21st June and gained a Grading of Very Good for her Test 4 under Necia Lynch.
June 27th,2009 - Eastern Suburbs Obedience Dog Club Inc. Phoebe excelled herself with another 'Very Good' on her Test 5 under judge Peter Miller. In shocking tracking conditions - 40 - 50 kmh winds, heavy rain, freezing cold Phoebe gained her TDX title (Track 6) on 10th July, 2009 at the Tracking Club of Victoria's trial at Broadford with a grading of 'Good' under Dawn Howard. This day was the most unpleasant tracking I have ever experienced in 30 years of tracking.
Our next trial was Gippsland on 20-7-09 with Lynn Klekka as our judge.  Phoebe was not out on her track until 12.00 noon and by then the wind was blowing a steady 50 mph with gusts around 70 mph.  Phoebe found the 3rd article which was held down by a large handful of dirt but unfortunately failed to find the first 2 articles (neither did the stewards who went back later  fter they returned to base camp, slightly controversial to say the least) - Phoebe tracked like a dream all the way round and finished the track in around 12 minutes but because she only had 1 article to her credit she was failed. Who knows why we didn't get the first two articles.

Well little Miss Phoebe did it - 17-8-09 at Tracking Club of Victoria's Inverleigh Trial - Judge: Peter Miller  and again in windy conditions - Phoebe gained her Track 7 with a grading of Good.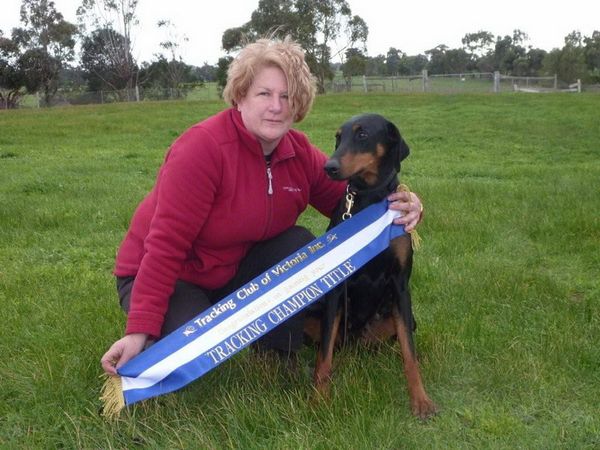 Liz and Phoebe at Inverleigh 17-8-09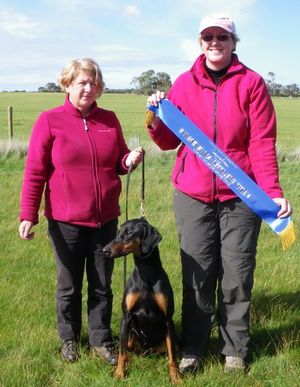 State Tracking Trial - Liz, Java & Trish.
Java has gained her Tracking Championship Title - 13-9-09 at Ballarat Obedience Dog Club Inc. - judge: Lynn Klekka with a grading of 'Good'. Leanne handled Shayne's "Nasa" at this trial and he gained his T.D. title with a grading of 'Very Good'. Photos to follow (they ran out of Championship Sashes and Java's is being mailed to Tash.

Nasa has been a wonderful tracker this season (2010) handled ably by Leanne, gaining his Test 4 at Ballarat, Test 5 at Hastings and his Test 6 (TDX) at Bendigo. He gained his Tracking Championship at Tracking Club of Victoria's Broadford trial in July, 2010.  Nasa is about to start on his TSD career and will be again handled by Leanne.



Liz is currently handling Shayne young Dobe bitch (Diva) in tracking trials.  Starting off at Ballarat for our Test 1 with judge Ute May, young Diva had no trouble finding Shayne and passed with a Very Good. Test 2 was gained under Rob Tester at Hastings at the beginning of June. Her test 3 was a challenge for both Liz and Diva in a paddock full of sheep, but she managed to find the articles and the tracklayer gaining her T.D. with a grading of "Good" under Denise Burriss.  Again judged by Denise Burriss at Tracking Club of Victoria trial at Broadford Diva tracked a lot better gaining a grading of Very Good for her Test 4. Test 5 was at Gippsland O.D.C. in the forest where she gained another very good under Rob Tester.  Diva achieved her Test 6 and TDX title at Inverleigh , our judge was Peter Miller and she was graded 'Good' (I think, maybe Very Good). Trials seem to blend in with each other at present.
Diva gained her Tracking Championship (Test 7) at the State Tracking Trial at Rosebud, judged again by Denise Burriss - she gained her title with  grading of 'Good'.  Whilst little Miss. Diva hasn't sailed through her tracking with Very Goods and Excellents at trials she has achieved her Tracking Championship in 7 straight tracks, this in itself is a wonderful achievement. Thanks Shayne for allowing me to track the Diva.