Sue purchased her first German Shorthaired Pointer in 1977 through the late "Westy Morris" of Ruvalan GSP's in Victoria.  Westy owned Jade's sire who was the first Triple Champion GSP in Australia - Aust.Dual.Ch. & Ft. Ch. Linstan Kris (Reg. No.11V69). Colmonell Cleo C.D. - 'Jade' was shown sparingly gaining several CC's however the show ring was not to her liking.  Although Jade proved her ability in obedience (easily gaining her C.D.) and placed in several retrieving trials she was happiest when she was home living a life of luxury as a lounge lizard. Jade passed over the rainbow bridge when she 13.5yrs.
Sue and Andrew spent several years living in England and upon their return to Australia purchased 9 acres at Inverleigh near Geelong.  Once their house had been built it was decided time was right for another GSP. After much research Sue decided to purchase another speckled bitch from Raelene, Alex and Liat Smith of Heidherst Kennels in South Australia. Heidherst Sheer Klass arrived in time for Christmas and was aptly called 'Holly'.
Holly easily gained her show title and won several groups and class in groups along the way. The biggest highlights of her showing career were winning Best Exhibit in Show at the German Shorthaired Pointer Club of Victoria's specialty show in 1999 and going Best of Breed at Royal Melbourne Show (and short listed for the group) in the same year. Holly was registered under the Silvahunter Prefix.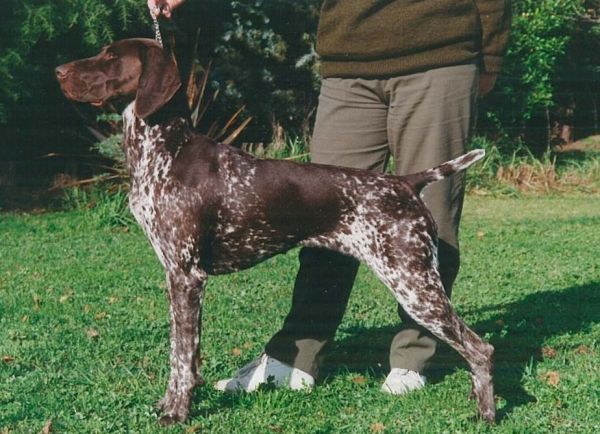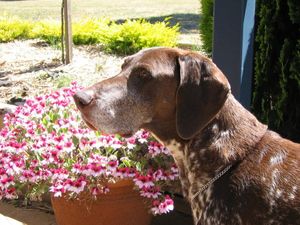 Aust. Ch. Heidherst Sheer Klass
  21-10-1994 to 1-1-2009
S. Gr.Ch. Heidherst Cointreau Onice
D. Ch. Heidherst Firedancer
Sue mated Holly to one of Raelene & Alex's males in 1998 and bred a litter from Holly under their Heidherst prefix.  Holly produced 10 puppies in this litter 9 males and 1 female - fortunately for Sue this speckled girl was also as pretty as her mum.  Phoebe was just as showy as her Mum and also gained her title with ease.  When Sue & Andrew's son Fraser came along dog showing was put to the back burner for both Holly & Phoebe, however, each year Sue still managed to find time to show at the Victorian Specialty and Royal Melbourne Show as well as attended several GSP National shows where both Holly & Phoebe have been graded 'Very Good' under German Breed Specialists. Phoebe is a class winner at Melbourne Royal and Class in Show winner at the Victorian GSP Specialty.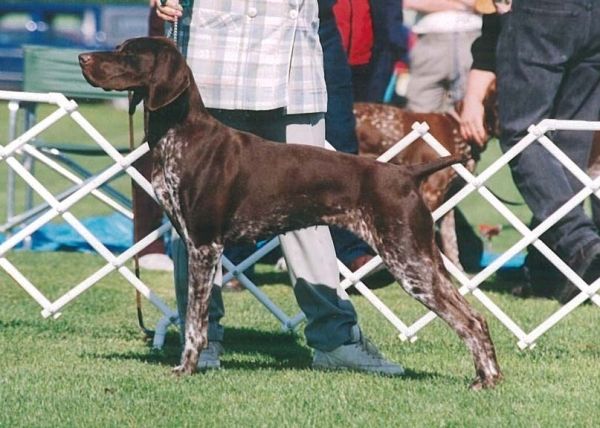 Aust. Ch. Heidherst Sheer N Stylish


w. 21-1-1999 - 11-3-2013
S. Ch. Heidherst All That Style
D. Ch. Heidherst Sheer Klass
Sue mated Phoebe to chilled semen from one of Dianna Norman's top winning Edelhof GSP's in late 2005. The week prior to Christmas Phoebe whelped a giant litter of one bitch. Much to Sue's surprise the only puppy luckily was a bitch, which however was solid liver. This little baby wove her way into everyone hearts and has stayed on with Sue, Andrew and Fraser who now own, Grandmother, Mother & Daughter. Lucy has a lovely temperament and also has an undocked tail as the Anti Tail Docking Laws were passed in the year prior to Lucy arriving.  Lucy 'longtail' as she is commonly referred to or 'Juicy Lucy' may  some day be shown if and when Sue gets some spare time. Unfortunately Sue has been extremely busy running 'Dressage & Jumping with the Stars' for the Equestrian Federation of Victoria for the past 3 years. She has also had an operation on her hand which prevented her showing Lucy at an early age.   She is also registered under the Heidherst prefix.  Phoebe & Lucy are registered under  Sue & Andrew's name.
After a really long and happy life in a most loving home, our beautiful Phoebe passed away suddenly on the Tuesday after the long weekend in March, 2013. She was so greatly loved and is so greatly missed by us all, especially her daughter Lucy.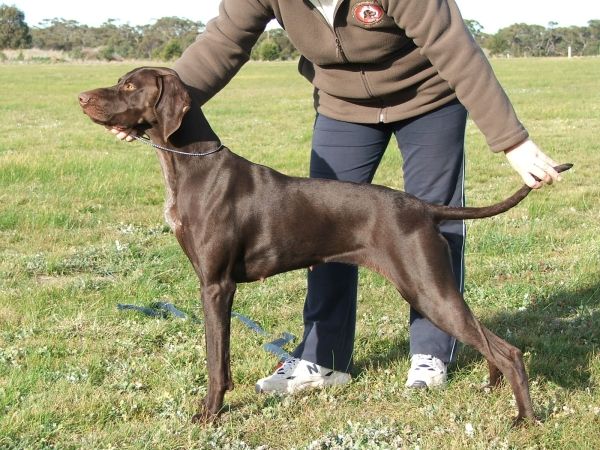 Tracking Champion Heidherst Sheer Xtravagnc


w. 8-12-2004 - 11-10-2019
S. Gr.Ch. Katydid Strongbow
D. Ch. Heidherst Sheer N Stylish
Lucy has finally found he niche in life, she has proved to be a natural tracking dog, gaining her Test 1 pass at Bendigo in June, 2010 after only 6 training sessions. In early July at the Tracking Club of Victoria Broadford trial she passed her Test 2 with a grading of Very Good under judge: Denise Burriss. Sue handled Lucy for the first time under Tracking Trial conditions and gained a grading of "Good" for test 3 giving Lucy her Tracking Dog Title.

Monday 30th August, 2010 - Victorian Canine Association - State Tracking Trial - judge: Denise Burriss. As Lucy had gained her T.D. the week previous she was again eligible to be judged again by Denise who really loves to watch Lucy work (Denise has a GSP too). Lucy had the most difficult conditions for parts of her track, the grass and weed was quite long (at times up to her head) and the base was mostly soft wet sand (like quick sand but with a hard base about 8 inches down). Sue did a really great job of handling Lucy under these conditions and was continually trying to keep her feet under he so she didn't check her dog with a tug on the lead. Lucy missed the second sock, but I would seriously doubt if most dogs would find a sock that was right in under a big cape weed bush. Everyone of us walked straight over the top of it.  Lucy was graded 'Very Good'. This was Lucy's last trial for this tracking season. I think she is going to miss her tracks when the weather warms up.  See photos in gallery below.
Lucy lived a very long and wonderful life with Sue, Andrew and Fraser.  She was extremely spoilt and went everywhere Sue went - Lucy spent several winters in the snow at Mt. Buller where she loved to have great walks around the snow covered streets.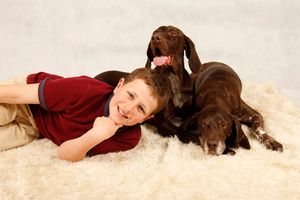 Fraser with Lucy and Phoebe - 2009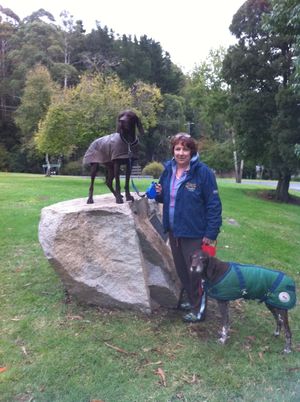 Sue with Lucy on the rock and Phoebe taken in 2012