Aust. Ch. Trupoint Rich Bitch.
"Opera"
w. 23-11-92
S. Aust. Ch. Grauhund New Man In Town (A.I)
D. Aust. Bromhund Ultra Sonic.
bred by Shayne Ramsay under the Trupoint Prefix
(in partnership with Mark Neilsen & Heidi Hartig)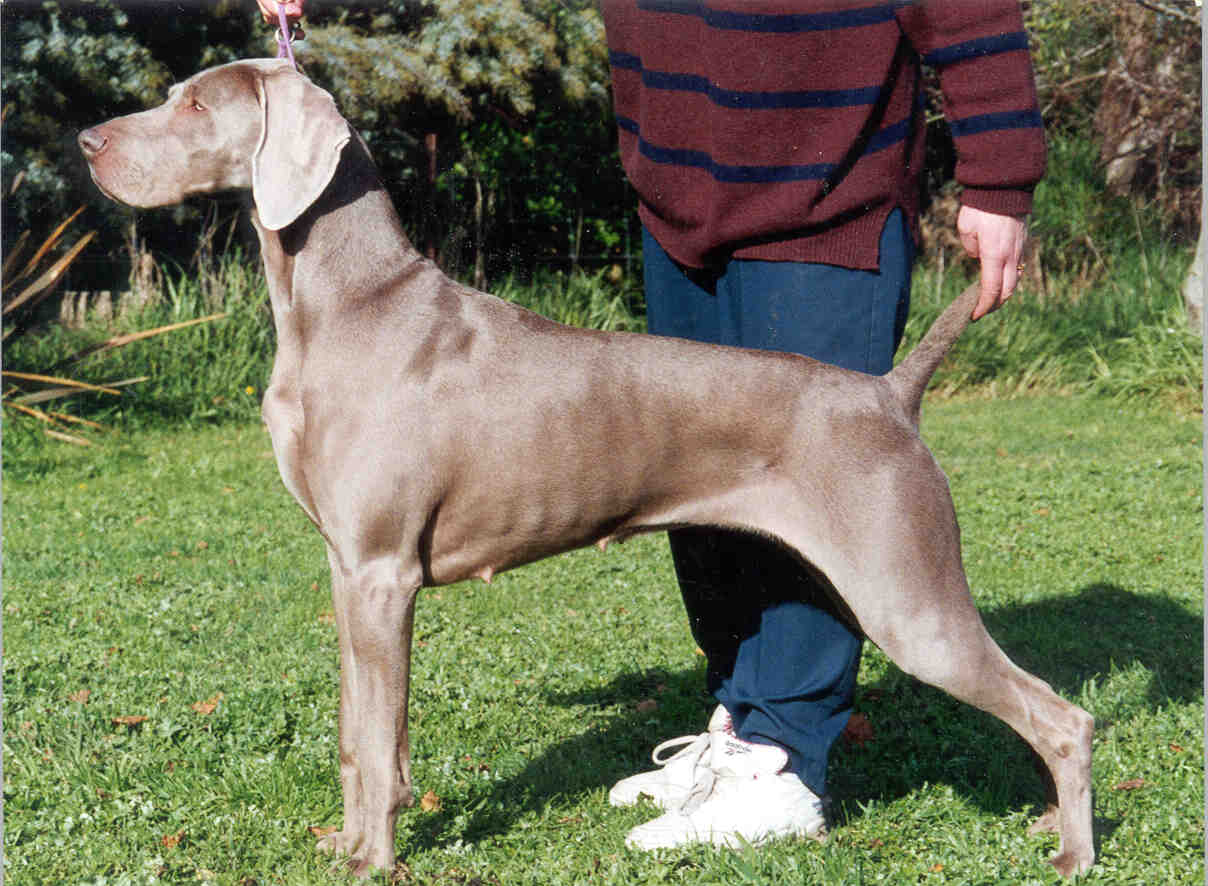 Opera was purchased by us in 1992 from our good friend Shayne Ramsay. Her sire and dam were both prolific Best Exhibit in Show winners both at Specialty and All Breeds level.  Her dam was Runner Up in Group and In Show at the Royal Adelaide Show.  Opera's pedigree combined both of Australia's most well known Weimaraner kennels 'Bromhund- John & Rosemary Mayhew' and 'Grauhund - Carol Wright'.  She was a very well balanced girl who also did well in the show ring.
She was a Best Exhibit in Show All Breeds winner at 11 months of age. 
Opera was mated twice - the first time to Margaret Bennett's English dog. Aust.Ch. Domaset Opel Viscount and from this litter bred under our 'Jujondy' prefix we kept a male.  This boy was kept more for his working ability than for his looks, as at 8 weeks of age he could mark the fall of game over 50 metres with pinpoint accuracy. This boy became our beautiful show dog also winning specialty CC's and Royal Adelaide and Royal Melbourne Show CC's - "Aust. Ch. Jujondy Crazy Horse - Indi" (he has his own section further down).  John's brother Robert, also took a dog from this litter and this boy is still going well today at nearly 14 years of age.
Opera's second litter was to Gr.Ch. and Am. Ch. Divani Loads A Trouble, the pick of this litter went to our friend 'Kerry Lee' - a very pretty girl 'Aust. Ch. Silvahunter Summa Spryz' who died from cancer at about 5 years of age.
Opera was shown until she was about 8 years old and then after that only came out for veterans parades.  Her soundness and balance was passed down through her bloodlines to her son 'Indi', and we can see evidence of this today in her great grandson 'Dual Ch.(T) Waldwiese Quintessential - Riggs'.
Opera lived a life of luxury  as a couch potato until she passed away in 2005 at 12.5 years of age.

Aust.Ch. Jujondy Crazy Horse

w. 29-9-1995 - 2-12-2002
S: Aust Ch. Domaset Opel Viscount (Imp.UK)
D: Aust. Ch. Trupoint Rich Bitch.
Bred by Jujondy Kennels (John Harding)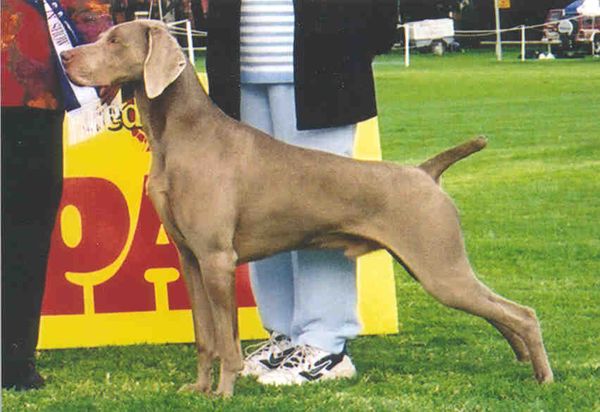 Opera was mated to Margaret Bennett's imported male weimaraner "Ch. Domaset Opel Viscount Imp.U.K." in 1995. "Graf" was a small, sound dog with loads of get up an go, just what we were looking for to put over Opera and from which John would keep a dog for working in Retrieving Trials and the field. There were only 4 males in the litter, pick dog remained with us and John's brother took another male for a companion.
At 6 weeks of age most of the dogs could retrieve over a 50 metre distance, but one dog could mark the fall of game from over 100 metres away and retrieve the dead bird  to hand - this dog was to become our pick of litter.  As with all our dogs we like to be able to show them, Indi proved straight off to  be a worthy show dog as well as a good worker. He had the attitude that said 'look at me'. He was extremely sound and had a great ground covering stride. Over the years he won several Royal Show dog challenges in South Australia and one Melbourne Royal Dog Challenge. He also won Dog challenge at several specialty shows. Whilst he never made BIS like his dam 'Opera' he achieved RUIS and he certainly won many Best in Group's, Class in Groups and Class in Shows. John was starting to train him up for retrieving when the greatest tragedy occured.  9 days after loosing Jet to a Tiger Snake bite, Indi was killed  by a Tiger Snake whilst defending the other dogs in the dog run, he saved the life of Opera, Bailey and Cooper (Nic's Lab) by disabling the snake.  Such a waste of a most beautiful dog at the age of 7. Always remembered with great love.
Indi's working ability was passed down to his progeny - especially so in Ch. Silvasheen Field O Dreams CDX (owned by Noel & Marie Scicluna - Nameapark Knls), Dual Ch.(T) Silvasheen Crystl Vision UD (owned by Gail Smith - Weisnjack Knls) and a special favourite Silvasheen River ODreams (owned by Dianne & Chris Brown - Silvasheen Knls).  Indi's fabulour temperament was also passed on to his daughter Ch. Waldwiese Krazy For You (Scout - owned by Anna Prizzi).  We were so lucky to be able to purchase a dog from Scout and Lois & Claire's Vader - our now
Dual Ch.(T)Waldwiese Quintessential TSD- Riggs.