Aust. Ch. Silvahunter The Tsar (Rt. QC)

w. 20-2-1980.
Br. John & Liz Harding.
S. Ch. Jujondy Cherokee (Rt.& Ft.QC)
D. Ch. Belgrigio Claudia U.D. T.D. (Rt. QC)
"Ras"
(Pictured in the Header photo for the 1980's above).


Ras (and his sister Marlee) were from Cindy's second litter. He was probably ahead of the times with his profile and outline for the showring, looking more like our current Weimaraners than most of those shown in the 1980's. Ras easily gained his show title and won the odd class in group along the way. He also competed and placed in Retrieving Trials but certainly wasn't as keen on ducks and birds as he was on large game. He really enjoyed his chance on some young pigs, and proved to a traditional trailer and reporter in those situations. Ras lived a long life and passed away just short of 14 years. He is buried up in the back paddock in our dog cemetary beside his parents - Cindy & Zac. His progeny all carried his wonderful temperament.


An Ad from a Weimaraner Supplement in 1982 from Silvahunter Kennels featuring Ras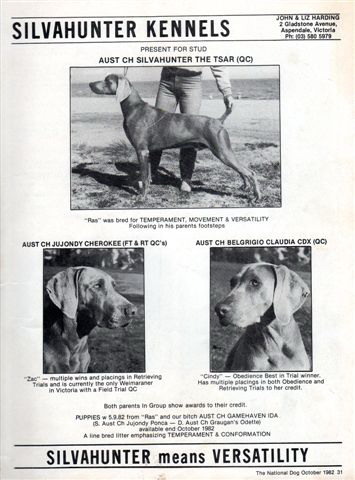 Aust. Ch. Silvahunter Beau Bijou
w. 27-1-1981
S. Aust. Ch. Silvahunter Graubenn
D. Aust. Ch. Gamehaven Ida CDX TD


Beau was owned by Silvahunter Kennels and John's brother - Robert Harding. Beau was handled to her show title by our friend Kerry Lee (Chaduna - Wirehair Fox Terriers). Benn and Beau were Rob's constant companions, everywhere Rob went there would be Benn & Beau. Beau was mated to Ras in 1985 out of which we kept a dog and a bitch. The boy - Aust. Ch. Silvahunter Cheyenne lived with Rob and a girl - Aust. Ch. Silvahunter Chardonnay lived with Liz & John.  (Hopefully we will be able to find some good photos of this beautiful girl to include on our website)


Pictured below is a lovely photo of Benn & Beau.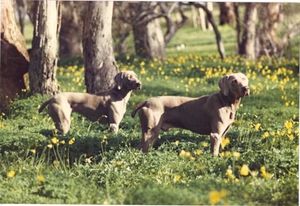 1987 saw massive changes to our lives, the dogs were put a little on the back burner for a couple of years while we built our house in Langwarrin and coped with a new baby and a big move. While building we lived with Rob Harding in his home in Langwarrin not far from our acreage. Life was full on with 3 adults, a tiny baby and seven Weimaraners all under one roof. Zac passed away in June, 1987 and was the first our dogs buried on our new property. Cindy passed away in 1988. Our Weimaraners that moved into our new property were Ras, Kahla and Calico (Aust. Silvahunter Chardonnay).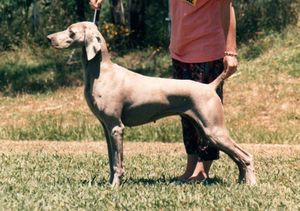 Aust. Ch. Silvahunter Chardonnay
WABUNA JET FIGHTER

w. 28-1-1989
S. Aust. Ch. Lindridge Wee Jasper
D. Aust. Ch. Silvahunter Sthn Spryz
Br. Kerry Lee & Neville Hodgkins


Emma was whelped at 'Rawson Parke' by Liz at the end of January 1989, producing a huge litter of 13 puppies to the top winning Weimaraner owned by Jill Fiddock and handled by Carol Wright. Marco had also won the Group at Melbourne Royal. Kerry handled the puppy sales and kept a bitch for himself. Liz and John kept a male 'Jet' which we had hoped would be a new retrieving trial dog for John.  Well to say Jet wasn't a retriever was to say the least. He also never had enough attitude for the show ring - refusing to allow anyone to hold his tail.  Well the rest says it all -We Don't Get Rid of our Rubbish! Jet lived a long life here at Langwarrin and died tragically in 2002 to tiger snake bite. Whilst he was never the dog we had hoped for he had the best temperament and could only be described as a loyal and loving dog. (Photos to following eventually).