1974 John buys his first maleWeimaraner.
At the beginning of 1974 John purchased his first Weimaraner from Dianna Crawford - Tooronga Weimaraners - Victoria, Australia.  John met Dianna through Pamela Nelson (Tanzingen Weimaraners) who lived near his home in Dandenong. John had always been a shooter and show dogs weren't high on his priority list when he purchased his first boy 'Ben'. Ben was sired by Pam's dog 'Ch. Kuruwa Autumn Mist CD' and out of Dianna's bitch 'Nebelgrau Mitzi'.  John joined the Weimaraner Club of Victoria and this lovely young boy was shown by John as a baby puppy. Ben used to accompany John to work on weekends when things were quiet, but unfortunately one day he wandered away from the job site and was struck & killed by a car.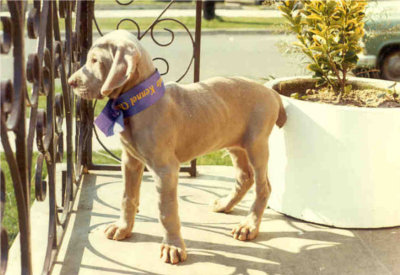 Ben

Dianna Crawford and Pamela immediately helped him source another Weimaraner, this time a bitch  - she was born 23-6-1974 and bred under the 'Belgrigio' prefix of Hector Pidutti who owned Mitzi's sister Ariel. Dianna at this time was looking after Frances Weatherly's top winning dog 'Ch. Greymar Noble Monarch' - Noble who was the sire of Hector's litter. John purchased

Belgrigio Claudia

(Cindy) in the August. John and Cindy spent a lot of time together, quail and duck shooting as well as obedience & shows. 'Cindy' was to become the foundation bitch of 'Silvahunter Kennels'. John became a committee member for the Weimaraner Club of Victoria and his involvement in the breed deepened.  Cindy gained her first pass to CD in early 1975 as well as several CC's towards her show title.

In 1975, John became quite actively involved with the Weimaraner Club of Victoria and had decided he needed another male.  He had seen Ch. Aquila Cheyenne win the Dog CC at the Royal Melbourne Show and decided to purchase a male from his owners - Bert and Judy Smith of Mildura, Victoria. Jujondy Cherokee (Zac) was to become John's foundation dog and stud dog.  Not only did Zac gain his show title, he gained his Retrieving and Field Trial qualifications and at a time when Weimaraners were laughed at in the Retrieving Trial circles - Labradors being the dominant breed - Zac earnt the respect of many triallers and judges with his many wins and placings, if he had been trialling today he would have undoubtedly become a Retrieving Trial Champion (NRD and RRD were never heard of in the 70's). Zac won the Weimaraner Club of Victoria's 'Morago' Trophy for retrieving 4 years running until the trophy was changed from Retrieving to Field. John was awarded four small replicas from this trophy and the trophy donor stripped all inscriptions and started the trophy again for field.

In 1976 Cindy and Zac were bred under the 'Silvahunter' prefix for the first time.  John's brother Robert kept the pick dog from this litter Silvahunter Graubenn (Ben).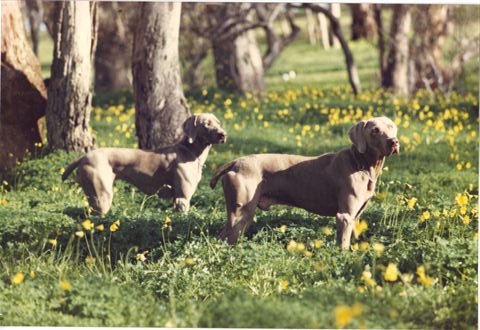 Benn in foreground with Beau taken in early 80's - owned by John's brother
Robert Harding (this photo will move later to 80's section when we are able
to load down some of our original photos).
Aust. Ch. Belgrigio Claudia U.D.TD (Rt. QC)
w. 23-6-74
S. Aust. Ch. Greymr Noble Monarch
D. Nebalgrau Ariel



"Cindy"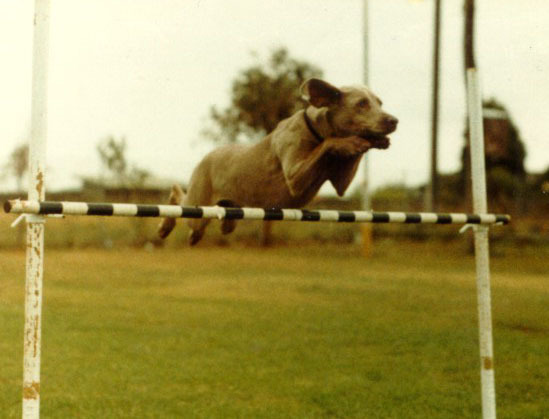 Cindy was the foundation bitch of Silvahunter Kennels. Purchased from Hector Pidutti shortly after John lost his young puppy Ben. Well known Weimaraner enthusiast and breeder Frances Weatherly helped John locate another Weimaraner. The litter was sired by her top winning dog 'Noble'. Cindy became John's learning curve, he spent many hours shooting over her in quail paddocks on his cousin's farm in northern Victoria. He took her to Moorabbin obedience every Sunday and also manage to fit in an occasional show. Once Zac came along Cindy took a liking to Liz (especially after John chased Cindy into the water for dropping sticks at people's feet when we were in far north Queensland).Liz handled Cindy in the show ring to her title and also took her through obedience and tracking. A late starter in tracking at 10 years she only needed one more pass to gain her TDX which in those days was all that was available (probably the equivalent then of tracking champion). Liz also handled Cindy at Retrieving Trials - she placed in several novice stakes. Cindy had 2 litters to Zac (Ch. Jujondy Cherokee) under our Silvahunter prefix.  The first litter produced Ch. Silvahunter Graubenn (owned by Rob Harding). From the second litter Liz and John kept a male who became Ch. Silvahunter The Tsar (Ras). Pat & Sandra Thorn took a bitch from the second litter called Silvahunter Silva Sage (Marlee) who won several retrieving trials and gained her NRD. Cindy was a Best In Trial winner and class in Trial winner in obedience.  Cindy's biggest claim to fame was probably winning the Utility Bitch obedience class at Royal Melbourne Show in 1983. The following year Cindy bloated the day after Melbourne Royal and it was decided that at 10 she could live a life of ease.  When Liz & John moved from Aspendale to Langwarrin in 1987 Cindy lived for some time with John's brother Rob as there were no fences on the new property, Cindy was totally deaf and we were worried she would get lost in the national park behind them.  Cindy died at nearly 14 years of age. A lovely girl with a wonderful temperament and beautiful head.



Liz and Cindy Wonthaggi 1978


In 1983 Cindy and Liz won the Utility Obedience Bitch Class at the prestigous Royal Melbourne Show.
Here is the picture taken by the late Max Neilsen for the KCC Gazette and published in the November edition in 1983.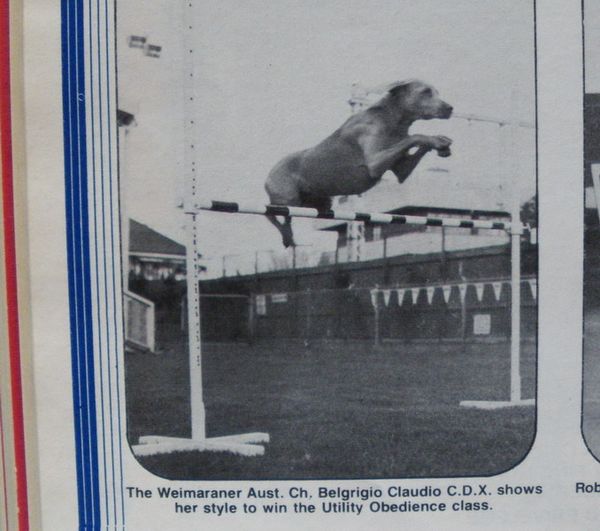 Aust. Ch. Jujondy Cherokee (Rt. & Ft. QC)
w. 20-9-1975
S. Ch. Aquila Cheyenne
D. Jadas Sugar N Spice (s)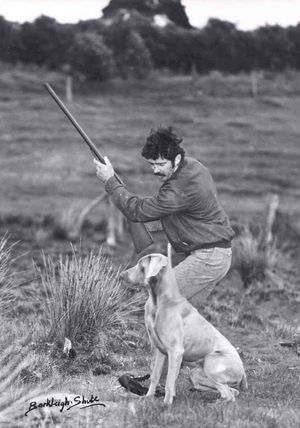 'Zac' was bred by Judy & Bert Smith - Mildura under their Jujondy prefix (when they retired from dog breeding Judy signed over the Jujondy Prefiz to John Harding). Having had a taste for retrieving trials John became quite enthusiastic about purchasing a male weimaraner. He attended the 1975 Royal Melbourne Show and was impressed with the Dog Challenge winner handled by Judy Smith. John made some enquiries and discovered Judy & Bert had a litter at home in Mildura. In the November John drove to Mildura and purchased Zac. Zac bonded to John quite deeply on the 8 hour trip back to Melbourne, a bond that kept them in a deep partnership of dog & handler till the day Zac died at 11.5 years. To say was Zac was over the top was to say the least, his ability to escape from the house or the dog yard was his forte - over the years he was nick named houdini. This over the top attitude made him an excellent working dog, he would leap into to lakes & rivers for water retrieves, charge up cliffs and through swamps to retrieve anything he was sent for. To have a group of shooters applaude a dog on a swamp on duck opening is the ultimate compliment to any handler. Zac retrieved a wounded duck that swamp over 150 metres duck diving up the middle of Rocklands Reservoir in the Western District of Victoria. When the duck went under so did Zac, he just kept swimming and pursuing the duck until he finally retrieved it and swamp back to John.

Zac won & placed many, many retrieving trials in a time when only Labradors were the favoured winners of many biased retrieving trial judges. Zac would have had at least the current RRD title if it had been available in the 70/80's. Zac also gained his show title and won his class in Group at a time when Weimaraners winning a group was very rare. He also gained his field trial qualifying certificate under the late Jack Pontin - who had owned the first weimaraners in Victoria but had given them away, describing them to other Labrador & Pointer men as 'mongrels'. To be awarded his Ft. QC under such an anti Weimaraner man was a compliment to Zac's working ability. Zac qualified and competed in State Retrieving trials. When John started to judge retrieving trials Zac's trialling was starting to be reduced and he was retired at the age of 10.

Zac was mated to Cindy (as mentioned on Cindy's section). He was also mated to several other bitches mostly owned by shooters wanting to improve their working lines. His son Ras did well in the show ring.

Zac passed away a few months after Liz & John and baby Nic moved in with John's brother Robert. A crowded house with 7 weimaraners 3 adults and a baby. The stress of the move and the stress of living with 3 other entire males took it's toll on Zac who just faded away before our eyes over a couple of days. Zac was our first Weimaraner buried in our dog cemetary here at Rawson Parke, Langwarrin.
Aust. Ch. Gamehaven Ida C.D.X. T.D.

w. 28-0-78
S. Aust. Ch. Jujondy Ponca.
D. Aust Ch. Graugan's Odette
Bred by John Donnelly - Hamilton, Vic.

In December 1978 John Donnelly sent a puppy bitch to Melbourne by train to a purchaser who upon receiving the puppy promptly rang John and said we have decided we don't want a weimaraner. Said purchasers dropped this young bitch off to John & Liz who were supposed to send her back to John.  She had no name and no collar, she was all alone and we snuggled her to make her comfortable and the rest as usual is history. We called her 'Kahla' - she lived with us until she died from cancer of the stomach in 1989. Kahla easily gained her show title, and she just was the most fabulous mother to her babies. She was mated to Rob Harding's dog - Ch. Silvahunter Graubenn (from Cindy & Zac) and produced some beautiful puppies - big litters also.  Her first litter produced Aust. Ch. Silvahunter Beau Bijou  (owned by Rob Harding ) and Ch. Silvahunter Sonata U.D. TDX (owned by Betty Cowling - Victorian Obedience & Tracking judge). Betty's Jemima was such a pretty girl and won Best In Open Show at the Weimaraner Club of Vic. show. Also won her class in groups at shows.  Beau was shown by Kerry Lee (Chaduna Wirehair Fox Terriers) and also easily gained her show title. She was mated to our boy Ch. Silvahunter The Tsar (Ras)  in 1982 for her second litter and produced a lovely girl (Austl Ch. Silvahunter Sthn Spryz - Emma)  who was owned by our friend Kerry Lee, . Emma was a multi BIG winner and Specialty winner at the Weimaraner Club of Victoria 1984 specialty show.
In obedience Kahla was a consistent trialler who always tried to please. Once she learnt an exercise she never made a mistake. Kahla went Best In Trial at Mildura from the Novice Class. She was often a class winner in obedience.

Photos of this beautiful girl and her progeny will need to be scanned to include on this site. But we do have one of the lovely Emma -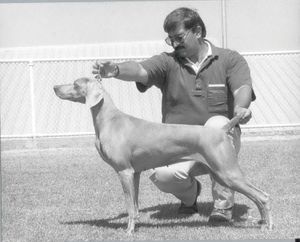 Pictured below is Betty Cowling's Aust. Ch. Silvahunter Sonata UD TD
at the Weimaraner Club of Victoria Open Show in 1983
this photo has been rephotographed out of the original Victorian Kennel Control Gazette.